These days, when someone talks about his idea to the players of the entrepreneurial ecosystem and expresses his own image and evaluations, he immediately hears this from the other side: Did you write the business canvas?
The Business Model Canvas is a tableau of all the building blocks of a business, in other words, it can be considered as a common and understandable language between the idea maker and the actors of the ecosystem, in a form such that they can study the business structure.
The business canvas was first designed by Alexander Osterwalder (Business Model Generation author). – Of course, after reviewing and evaluating the performance of this model, Ash Maurya, modified it and introduced a new model called Lean.-
There are different ways to show and design a business model, but the most common way is the Business Model Canvas. Due to its simplicity and practicality, this tool quickly became widespread and got used all over the world.
9 Building Blocks of the Business Generation Model Canvas
Business models should focus on the following interrelated parts, which cover customers, offerings, infrastructure, and financial viability. It might be interesting to know that dividing a business into specific units and examining and analyzing each unit separately (just like examining the parts and gears of a Swiss watch) is an important feature of the Swiss school of management named St. Gallen Management.
The business model canvas is a visual model. You need to answer 9 key business questions and write each of these answers in a specific section of the business canvas.
Customer Segments (CS): When you use the term "Segments", it implies that some are supposed to be your customers and others are not.

Who are your customers?
What are the common features of your customers?
If you put all the customers together (or divide them into several sections), what is the common feature of the customers of each section?

Value Proposition (VP):

Why do customers come to you and why are they willing to pay?
What customer problems have you solved and what needs have you met?
After they buy your product or service if someone asks them what you got with the money you gave, what will be their response?

Channels (CH):

Through which channels do we offer our product and deliver it to the customer?
Should the customer visit your showroom/store?
Is ordering and purchasing the product done through digital tools and the Internet?
Do you go to the customer's location?
Do you use the capacity of existing retail systems? Or will you build your system?
From which channels do you communicate and interact and exchange information with customers?

Communication channels have a variety of functions, and you may want to consider different channels for each of the following purposes:

Channels of communication with potential customers and those who want to become your customers
Channels of communication with those who want to buy your product
Customers' access channels to the product / its information (for the purpose of product evaluation)
The channels through which the customer accesses you after purchasing the product

Customer Relationships (CR):

What is the position of the customer in your business? What is your relationship with him?
Is the customer just a consumer of your product or is he involved in its production?
Are you going to help the customer in their purchasing decision? To what extent?
What part of this relationship is human involved and what part is left to mechanical processes?
Where is the place of marketing and sales automation in this business model?

Revenue Streams (RS): Once most of the components of the business model canvas have been identified, you can talk about the RS.
Many people unfamiliar with the business environment consider the RS and Revenue Model in the early stages of business design.
Key Resources (KR): Physical resources, human resources, knowledge, information, and financial resources are among the topics covered in this block.

What resources do you need to create value and reach the customer and deliver the product?
How are these resources provided and does your income in this business allow you to provide, and maintain these resources?

Key Activities (KA): If you list the activities of a business, you will find the things that make up the core of that business, and if you remove them from the business, there is nothing left.
Key Partnerships (KP): Services, activities, and resources sourced from outside the business require relationship building. Depending on the type of business and product, the number and variety of these relationships also vary. E.g.:

Relationship with raw material suppliers
Relationship with consulting companies
Relationship with financial institutions

Cost Structure (CS): Different types of expenses in a business that is composed of fixed and variable costs.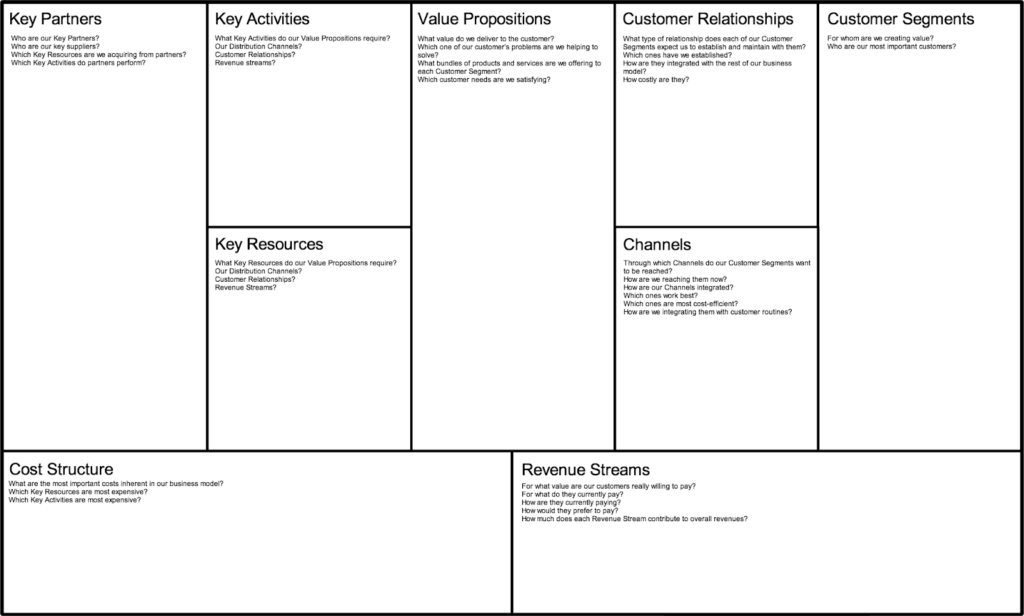 A business model – defined as "the rationale of how an organization creates, delivers and captures value" – can launch an entrepreneur's new idea or readjust the thrust of an existing company.
The Business Model Canvas delivers a framework for focused brainstorming and staff inspiration.
The issues raised in the business model canvas can be divided into three categories:
The central part of Canvas: Discussions about value creation and business value proposition
Left side: Issues and concerns related to the core business
Right side: Issues and questions related to customers and customer relations
We normally start from the right side, because just like the right hemisphere of the brain, it is related to empathy, and with fast thinking and acting to emotions, you can amaze the customers. And as you design activities and partnerships more, you will need more analytic thinking which happens on the left side of the brain.
In a nutshell, the target is CS, the offering is VP, activities are CH, CR, KR, KA, and KP and the profit is reflected in RS and CS.
The Main Takeaways:
Establish what value Key Activities, Key Resources, and Key partners provide for your customers, and allow you to deliver your Value Proposition.
Consider the costs incurred for the type of Customer Relationship and how to integrate them with the rest of your business model.
Find a good balance between different Channels to design a cost-effective solution to provide the most revenue whilst meeting customer needs.
Be creative and think out of the box when mapping Revenue Streams.
When you find out if the business model is cost-driven or value-driven, consider which block is the most expensive, the KR or KA, or something in-between.
Always match costs with VP to be sure your model is designed with customers at its core.
The Blocks are not independent of each other.
Patterns
There are different business models, but with similar characteristics and arrangements of building blocks. A pattern is a way of matching building blocks together. There are 3 types of businesses: Customer Relationship businesses, product innovation businesses, and infrastructure businesses, a company can have more than one type of business, as the book itself has mentioned:
| | | | | | |
| --- | --- | --- | --- | --- | --- |
| Patterns Overview | Unbundling Business Models | The Long Tail | Multi-Sided Platforms | FREE as a Business Model | Open Business Models |
| CONTEXT(BEFORE) | An integrated model combines infrastructure management, product innovation, and Customer Relationships under one roof. | IT and management tool improvements allow separating and coordinating different business models at a lower cost, thus eliminating undesirable trade-offs. | One Value Proposition targets one Customer Segment. | A high-value, high-cost Value Proposition is offered to paying customers only. | R&D Resources and Key Activities are concentrated in-house: • Ideas are invented "inside" only • Results are exploited "inside" only |
| CHALLENGE | Costs are too high. Several conflicting organizational cultures are combined in a single entity, resulting in undesirable trade-offs. | Targeting less profitable segments with specific Value Propositions is too costly. | Enterprise fails to acquire potential new customers who are interested in gaining access to a company's existing customer base (e.g. game developers who want to reach console users) | The high price dissuades customers. | R&D is costly and/or productivity is falling. |
| SOLUTION(AFTER) | The business is unbundled into three separate but complementary models dealing with • Infrastructure management • Product innovation • Customer relationships | The new or additional Value Proposition targets a large number of historically less profitable, niche Customer Segments—which in the aggregate are profitable. | A Value Proposition "giving access" to a company's existing Customer Segment is added (e.g. a game console manufacturer provides software developers with access to its users) | Several Value Propositions are offered to different Customer Segments with different Revenue Streams, one of them being free-of-charge (or very low cost). | Internal R&D Resources and Activities are leveraged by utilizing outside partners. Internal R&D results are transformed into a Value Proposition and offered to interested Customer Segments. |
| RATIONALE | IT and management tool improvements allow separating and coordinating different business models at a lower cost, thus eliminating undesirable trade-offs. | IT and operations management improvements allow delivering tailored Value Propositions to a very large number of new customers at a low cost. | An intermediary operating a platform between two or more Customer Segments adds Revenue Streams to the initial model. | Non-paying Customer Segments are subsidized by paying customers in order to attract the maximum number of users. | Acquiring R&D from external sources can be less expensive, resulting in faster time-to-market. Unexploited innovations have the potential to bring in more revenue when sold outside. |
Six of business model design techniques that can help you with developing your business models:
Customer Insights: A great shortcut to a good business model is to understand the customers' perspective on the product. A cheap way to get into the customers' head is by drawing an empathy map but you should consider both desired gains as well as pain points.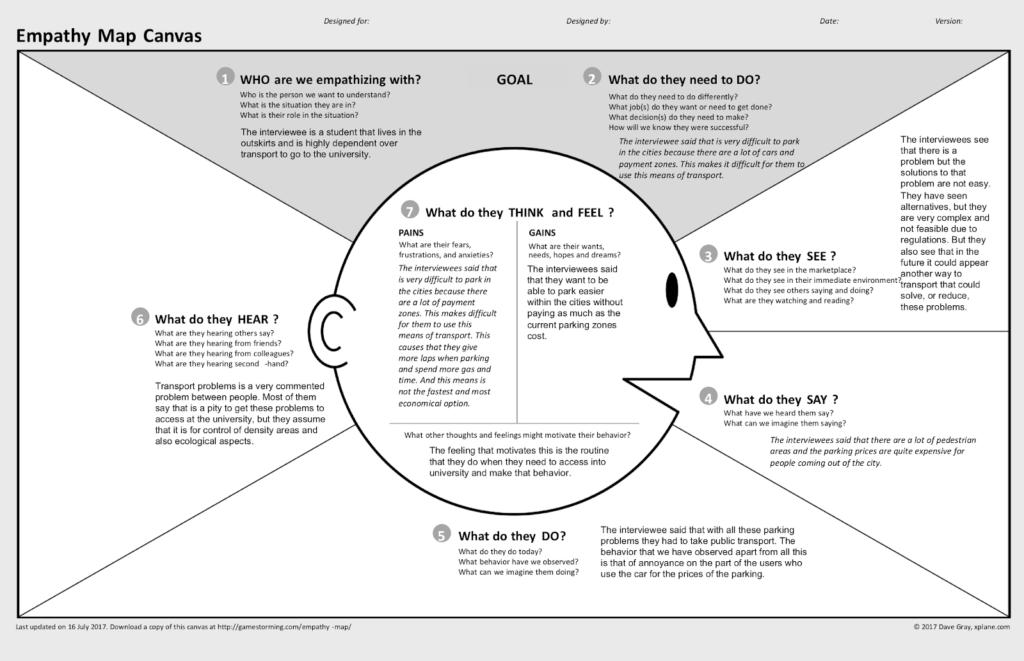 Ideation: Ideas can come from different blocks in a business model canvas, or from "What if" questions. Or in an easier way, by setting brainstorming sessions.
Visual Thinking: Use different visual tools to discuss the meaning and ideas, discuss them, and try to sell your ideas to the others through the BMC
Prototyping: As we also discussed in This Is Service Design Methods – A Companion to This Is Service Design Doing, prototypes in different levels and different scales can make it easier for everyone to see the touchpoints, pain points, and all features of the ideas.
Storytelling: by pitching your business idea and model to different people you will make it more tangible and buyable. Try to use different visual tools to make it more engaging.
| | | | | | |
| --- | --- | --- | --- | --- | --- |
| | Talk & Image | Video Clip | Role Play | Text & Image | Comic Strip |
| Description | Tell the story of a protagonist and his environment using one or several images | Tell the story of a protagonist and his environment using video to blur lines between reality and fiction | Have people play the roles of a story's protagonists to make the scenario real and tangible | Tell the story of a protagonist and his environment using text and one or several images | Use a series of cartoon images to tell the story of a protagonist in a tangible way |
| When? | Group or conference presentation | Broadcast to large audiences or in-house use for decisions with important financial implications | Workshops where participants present newly developed business model ideas to each other | Reports or broadcasts to large audiences | Reports or broadcasts to large audiences |
| Time & Cost | low | Medium to high | low | low | Low to medium |
Scenarios: Scenarios "make the design context-specific and detailed" and a result tangible. They can be built on customers' insights in certain situations, or on probable future outcomes with details and how they can affect each block of BMC.
Main Takeaways:
Identify potential customers
Try to find ideas from the BMC
Use visual tools to make your ideas comprehensible to everyone.
Be creative
Don't forget the details.
Building an Empathy Map Canvas is time-consuming, the results are not instantaneous.
Strategy:
When one is talking about strategy, time should definitely be in mind, because strategies are all about how the future might look hypothetically.
Business Model Environment: You should see the external environment reflecting your company and business model. One way is that you make an environmental analysis in a workshop with participants from different departments of your organization, to create the best picture of the environment. You can break the environment into 4 parts to map:
Market Forces including demand, revenue attractiveness, etc,.
Industry Forces like competitors and suppliers.
Key Trends including technology and societal trends.
Macro-Economic Forces including capital markets and economic infrastructure.
Evaluating Business Models: You should check your business model regularly on scheduled evaluations to control the environment and figure out the problems early.
Two models are suggested: big pictures and the old fashion SWOT analysis to evaluate each building block.
Switching to a new business model for old companies is not easy and for that reason, new projects should be spun off to sections separately but not completely, so the synergy within the company stays still and yet the chances of conflict reduce into a more manageable matter.
With SWOT you can assess your organization internally (strengths and weaknesses) and externally (opportunities and threats) for each Building Block which helps in decision making and discussions over the designing of the business model.
Blue Ocean Strategy: This strategy helps to find new markets, creating values, and optimizing costs. And to find these values, a tool called the Four Actions Framework comes in handy and challenges the established business model.
"1. Which of the factors that the industry takes for granted should be eliminated?
2. Which factors should be reduced well below the industry standard?
3. Which factors should be raised well above the industry standard?
4. Which factors should be created that the industry has never offered?"
Mixing Blue Ocean with the BMC can result in a powerful analysis of each building block.
Process
Every business design process should be adjusted to the requirements of the business, and designing the right business model is challenging. Before implementing the new business model it should be tested and when it's in place, adjusting environment changes to the business model requires an ongoing process. It is good to test new models to prepare for the future. Existing organizations have challenges to change their business model which includes, accepting new models, aligning the old and new models, and making long-term goals.
Finding the right way to process it is time-consuming but finding alternatives is important.
There are 5 phases to the design process:
Mobilize: Gather the tools and requirements. Set the stage. Explain the need for a new model completely.
Understand: Immerse the team to learn about the customers and the environment.
Design: To begin, first you should develop several prototypes and test them to find the best design.
Implement: Implement the best business model design.
Manage: Choose a way to manage the model to be able to make occasional changes as the model is being monitored.
Outlook
A business model is the basis of a business plan. Putting a plan together needs the following elements first:
Description of the management team.
The business model.
Financial analysis.
Description of the external environment.
Implementation roadmap.
Risk analysis.
A business model can be turned into a real business or implementation. And five areas should be considered with the business model: strategy, structure, processes, rewards, and people.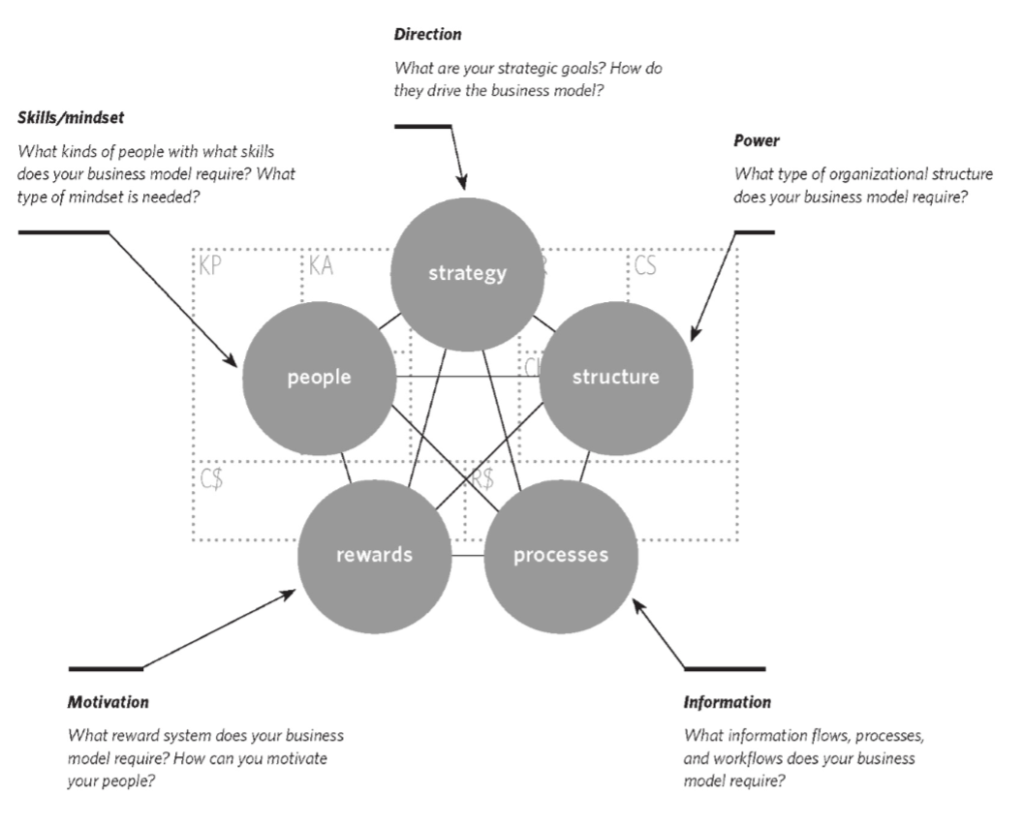 Don't forget to align the information systems with the business goals and BMC can be used as an important tool for communication with the CIO of the organization.
BMC can be used with the Enterprise Architecture approach which shows companies having 3 dimensions: the business, the applications, and the technology perspectives, where the BMC can guide the business perspective, and then the applications and technology perspectives can be aligned with.
This book is really good especially for beginners. Although it does not go deep into the concepts, it gives you a good idea on what a business model canvas is and how businesses work. For further study of the strategic part of implementing your business model, We suggest learning about PESTLE to understand the risks to be considered when developing a BMC.
Bibliography:
Business Model Generation: A Handbook for Visionaries, Game Changers, and Challengers, Alexander Osterwalder, Yves Pigneur, John Wiley & Sons, 2013
---
Downloads for Business Model Generation
You can also get an additional amount of interesting knowledge about this content. With our newsletter, you will get an efficient set of tools to learn a lot about topics focused on services & digital product building. Read more.