As everyone shall know service design is different from UX design.
Service design examines value and experience from a multi-user perspective is largely agnostic to channel and medium and connects experience delivery to the operations and technology that produce it.
What is a Service Blueprint?
A blueprint visualizes different components of a service in detail to help out with analyzing, implementing, and maintaining it. Service blueprinting makes space for different groups especially internal staff to see how their responsibilities are dependent on other parts to create the system.
Through increased collaboration and intentional orchestration across functions, service blueprints increase the odds that an organization can deliver and maintain its envisioned experience for customers and staff.
By visualizing a service, you make it tangible for stakeholders to understand the abstract concept, and by aligning end-to-end perspectives on a service experience, the blueprints help with uniting around a common understanding of the functionality of a service. Also, the blueprint helps with prototyping delivery approaches. It can show customer flows and interaction points, touchpoints, impacts on operational processes, and operational viability before investing in development.
How to use a service blueprint?
Blueprint as prototype
When you make a future-state blueprint, it is like you make a paper prototype. When you make the blueprint it is full of sticky notes where you can move them easily. There are two modes when using the blueprint for prototyping experiences: "capturing ideas that arise from the prototype or providing a script from which to work." It is better if you use other prototyping techniques at the same time for faster refinement and defining from different perspectives. It makes it possible for your team to move quickly from inspiration to operational understanding of the experience being designed.
The team can use blueprints to capture the outputs and then transition to use them to orchestrate touchpoint creation and experience prototypes.
Supporting a vision
The operational part of blueprints needs support from other tools to make an experience happen and be communicated to others. One good pair is with an experience story. This tool shows the experiential and emotional side of the story while showing the core value, key moments, and desired emotions. This pairing can be strong so blueprints would not grasp how the service will be experienced by the end-users and other stakeholders.
From blueprint to a roadmap
The current- and future-state blueprints can be compared and analyzed to identify the change needs of the services. After defining the needs and how to pursue these changes, different projects, teams, timings, and other details can be identified. This means moving from blueprint to roadmap. To move quicker between steps, it is better to have major decision-makers in the blueprint comparison session.
Don't forget to account for projects that will be necessary to train staff and change human processes. You should also include these activities in your implementation plans.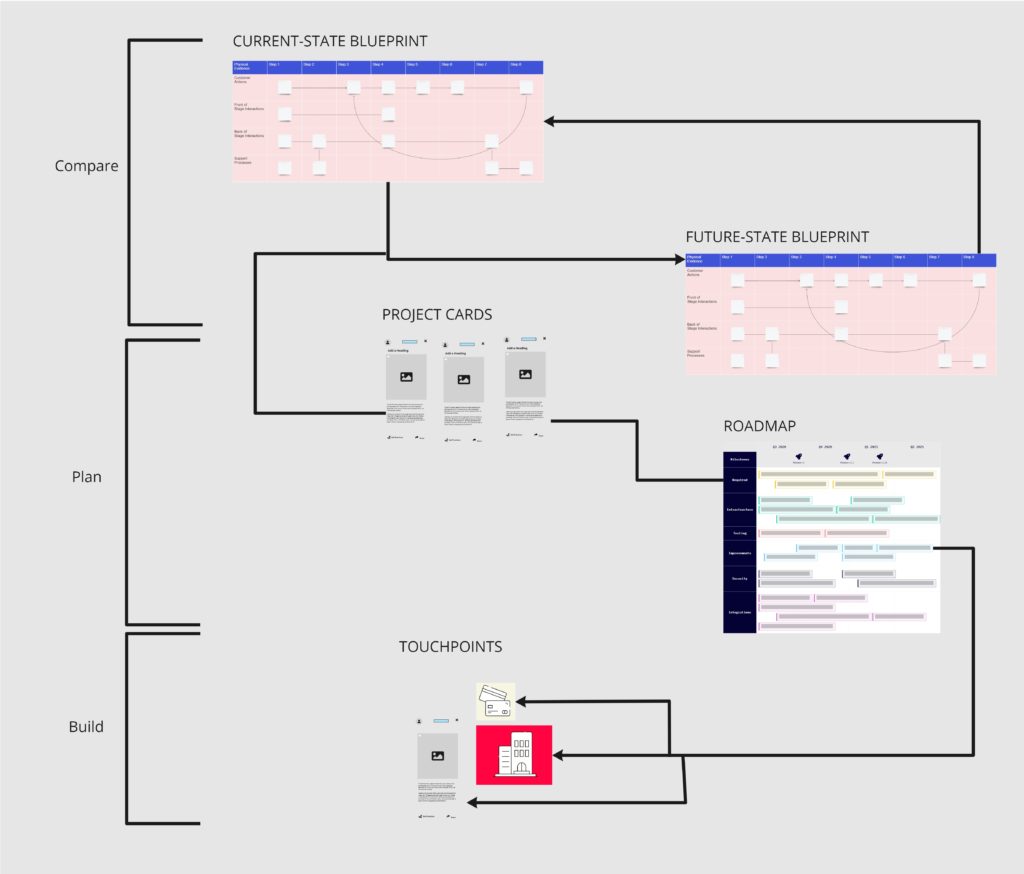 Service patterns
You can use service blueprints to identify service patterns. It means that you can see the repeating elements in a really large scale of service experience, and there is no need to redo the same routine every time you make a new experience. You need to make sure the information you get is suitable for the service you are working on. If your service is digital, you should consider the code used.
Using service patterns will start to drive experience consistency and alignment throughout your service experience while adding efficiency to the creation of new service experiences.
Service patterns can be mentioned as the existing and past experiences a company delivers which can be recombined to create new experiences. When the team starts creating and using service blueprints, identifying and shaping service patterns with others will become easier.
The future of service blueprinting
About three decades ago service blueprinting was introduced, and it has been evolving since then. There are three trends that define the future of the blueprints. First, digital tools help with the access to collaboration of larger and distributed teams. Second, disciplines like process engineering have found out how blueprints help value stream mapping to customer experience design which has lead to increased collaboration between experience and operational practitioners. Finally, the structure of blueprints is always changing. A mix between blueprints and other maps and artifacts has shown how practitioners want to communicate how services operate rely on how people experience them.
Blueprinting has increased in popularity and in variety. If you would like to know where you are standing and improve your digital services using Clojure developers and service designers, have a remote coffee with us. We can make your service experiences more human!
Bibliography: A Guide to Service Blueprinting by Nick Remis and Nicholas Remis